Lovely bags for your knitting projects. Roomy enough for your sock, shawl or sweater projects. Beautiful floral and linen fabrics, sturdy canvas and one of a kind patchwork bags with a touch of whimsy.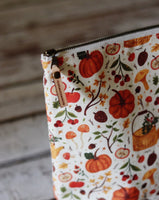 Beautiful Fabrics
You'll find a sweet little collection of fabrics turned into project bags of all sizes to choose from. The fabrics I sew are thoughtfully curated and seasonally inspired. I love botanicals and nature, you'll find that is where I get my inspiration for the fabrics I sew with. I want them to evoke a feeling of warmth and coziness. Long lasting, well made bags for everyday use, everywhere you go.
Knitting Patterns
One of my favorite knitting projects, is knitting socks. I enjoy designing them just as much as I enjoy wearing handknit socks. You can find all of my knitting patterns on Ravelry. They are available as digital downloads.
Take me to Ravelry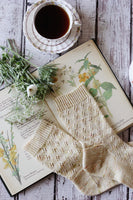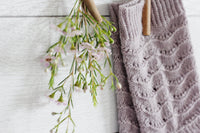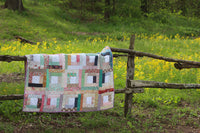 Patchwork Quilts
Handmade, handstitched and carefully sewn quilts. A mixture of floral fabrics and vintage calicos. The perfectly coziest quilts to snuggle under while reading a good book. All my quilts are one of a kind. Be sure to check back or to follow me on instagram for updates on when quilts have been added to the shop for purchase.
Find me on Instagram
You'll find all the latest projects I'm working on, new yarn I'm working with, books I'm reading or listening too, patterns I have designed and when I update my shop.
instagram